Advice
How long is bankruptcy on my credit report?
A Chapter 7 case stays on your credit report for ten years, a Chapter 13 stays on your credit report for seven years.
What should I look for in choosing an attorney?
You should make sure that the attorney you choose is experienced in bankruptcy, and will be there when you need them to answer questions and take care of problems. Bankruptcy is a specialized area with complicated laws and rules and even has its own court. It is therefore our advice that you hire only an attorney that concentrates their practice in bankruptcy rather than a general practitioner. You should also be sure that the attorney you choose handles both Chapter 7 and Chapter 13 cases so that you know all of your options.
What can I expect at an appointment with your office?
The attorney will meet with you, answer any questions that you have and then discuss your options. There is no charge for this consultation in non-business cases. You are welcome to have your first appointment be just for information, or if you are sure that you want to file something under bankruptcy we can generally prepare the paperwork at the appointment as long as you have the court costs with you.
How quickly can a bankruptcy case be filed with your office?
In most cases your case can be filed the next business day after your appointment. This immediately stops creditor collection action like lawsuits, garnishments and telephone calls. Unlike some other attorneys that let your case sit for days or even weeks before it is filed with the court - just because you have signed the papers and paid the attorney does not always mean that you are under court protection. We move quickly to get you immediate relief by having the case filed right away and having a case number issued.
What can I expect in a Chapter 7 or Chapter 13 case?
Check out our Bankruptcy Page for a full discussion of either Chapter 7 or Chapter 13, the costs for each case, and the process.
Call Us Today!
(309) 673-5535
Rafool & Bourne
attorneys at law
(309) 673-5535
We are located on the 16 floor of the Chase Bank Building at the corner of Hamilton and Jefferson in Peoria.

411 Hamilton Blvd, Suite 1600
Peoria, Illinois 61602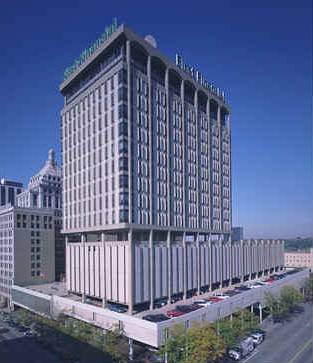 We are a debt relief agency.
We assist people in filing for bankruptcy.
We provide personal and business bankruptcy services throughout Central Illinois, including Peoria, Galesburg, Pekin, Canton, Havana and the surrounding areas.
2020 Rafool & Bourne Privacy Policy Terms of Use